The Board of Bètastuf
For the academic year of 2020/2021, the 34th Board of Bètastuf consists of: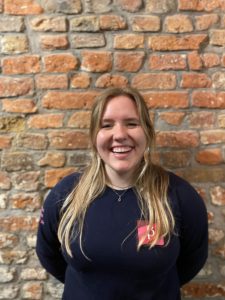 Anni Kortesmaa, Chair
Hi everyone! My name is Anni and I have the great pleasure to serve as Chair of the 34th board of Bètastuf. I'm in my 4th and last year of studying my bachelors in Physics and Philosophy of Natural Sciences. Although you might think from my name and appearance, I'm actually not Dutch! Originally, I'm from Finland but having been brought up for most of my life in between the mountain region of France, I also identify as (somewhat) French. Besides studying, I've always been quite involved in different associations throughout my student time in Groningen, including a board year at AIESEC in 2018-2019. In this new board year at Bètastuf, I'm especially excited to connect with all the different student representatives within the Faculty of Science and Engineering. I'm always open for a coffee or a beer about how Bètastuf can help you as a student representative!Besides struggling to prioritize between my studies and board activities, I'm really into swimming and cross training! As I am currently training for a Swimrun, essentially a very long biathlon, you can often find me at the ACLO swimming pool or running tracks. In the evenings, my time is mainly spent supporting the local horeca businesses and enjoying the amazing student culture of Groningen!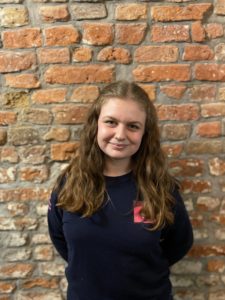 Maja Stevanovska, Secretary
Hii! I'm Maja, a master's student in Medical Pharmaceutical Sciences and the secretary of Bètastuf. Whenever I am not studying, working, or replying to emails I am baking my stress away. I enjoy baking and sharing my food with others ;). Although this year is quite a challenge for us all I am excited to be part of the Bètastuf Board and be able to take part in organizing cool events!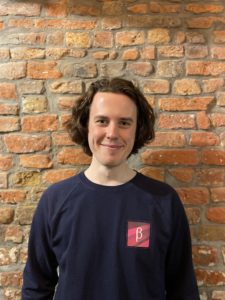 Eoin Raftery, Treasurer
Hello! My name's Eoin and I'm the Treasurer of Betastuf this year. I'm also a member of the University Council for Lijst Calimero and I studied International & EU Law as well as Philosophy. Why is a law/philosophy student in the board of Betastuf you might ask? Well, as part of my work in the University Council I believe it is important that the views of students at the faculty level needs to be heard loudly and clearly at the central level. Bètastuf is a unique and dynamic organisation that seeks to bring students at the FSE together, giving them a strong voice, fostering cooperation as well as having some fun along the way. That's precisely why I am excited to be in the board of Bètastuf, to work with like-minded people who are equally motivated to make the University a better place for us all.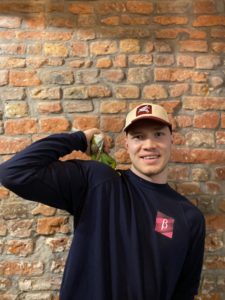 Wouter Groenestein, External Affairs
Hello! My name is Wouter and I'm from a very small town in Friesland called Sondel. I study Chemistry on the Chemistry of Life track; a choice influenced by my love for animals and nature. I am active in my Study association De Chemische Binding for a few years now, and love the way students can find ways to come together and create something bigger than themselves and enjoy their time together. I hope to bring my experience and energy to benefit the FSE student even more in their studies.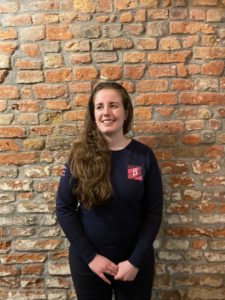 Nadalina Merkelijn, Student Assessor and Vice Chair
I'm Nadalina, the student assessor on the Faculty Board of our amazing faculty and vice chair of Betastuf board. I'm a masters student currently completing my MSc Chemical Engineering and MSc Industrial Engineering & Management. I grew up in Groningen and had the opportunity to fill several different student representative roles during my time here. Groningen student culture truly is unique in how students and staff work together in making the university a great place to work, study, and grow. I like to keep myself busy – especially now with the pandemic going on – so in the little spare time I have left, I love to just sit, relax, enjoy the company of friends and share some nice craft beers or whiskys while we contemplate how for sure our cats are planning to take over the world.
For the academic year of 2019-2020, the 33rd Board of Bètastuf consisted of the following members:
Arne Hefting
Robert Mol
Floris Westerman
Lennard Piery
For the academic year of 2018­/2019, the 32nd Board of Bètastuf consist of the ed of the following members:

Lisl Miedema, Chair ­ 
Joeri ten Kate, Vice-­Chair and Assessor of the Faculty Board
Henrieke Polinder, Secretary ­
Jasper Somsen, Treasurer